It is a pleasure to turn the pen over this month to Dave Fountaine, the Assistant VP for the Far South who will be taking over for me as Vice President in April:
I'm honored and excited to join the leadership team of The VHA.  I will be taking over from Roger Kass as the Vice President for the Far South area in April. First, I'd like to thank Roger and the rest of The VHA leadership team for everything they've done to help me during the transition and thank them for providing me this opportunity to serve.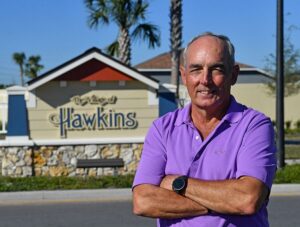 As Roger has mentioned previously, The VHA recognizes the importance of bringing as many VHA activities as possible to the Far South area. We have had great cooperation from many of our partners which has resulted in a full monthly program scheduled for the Far South 2022!
Our March program will be held on Tuesday, March 8 at the Ezell Recreation Center at 7:00 p.m. The program is titled "Your District Government Explained". Many of us are unfamiliar with a Community Development District and how it interacts with county and city governments.
Representatives from the district government will provide an overview of the various entities that impact us and explain the various responsibilities each of them has. There will also be a very informative review of the district website. The website provides a wealth of information regarding all the activities in the district (recreation, community events, golf, utility billing, etc.) while also providing you options to pay your fees online and engage with district staff.
I'd like to close by acknowledging the numerous VHA members who have volunteered to be neighborhood representatives. These are your neighbors who want to hear from you about any issues or concerns you may have so that we may continue the dream and help you enjoy the wonderful opportunities and benefits this great community provides for all of us. We still need neighborhood representatives, especially in the more established areas south of State Route 44.  If you are interested in becoming a part of the team that is working "To Keep the Dream Alive", give me a call at 716-816-9581.
Roger Kass,
Interim Vice President, Far South
Dave Fountaine,
Assistant Vice President, Far South
716-816-9581