I am sure most of you have heard of Seniors vs. Crime, which is a special project of the State of Florida Office of Attorney General. One of our neighbors, Don Schuster, volunteers for them, and recently sent out a message to our neighborhood regarding a new fraud scheme that is becoming more widespread around the country.
Mortgage fraud and identity theft is becoming more prevalent and, as with many fraud schemes, seniors are a target. But the County Clerk of the Courts office says that they also target "people in long-term care facilities, absentee property owners, and owners who spend large parts of the year out of town."
In this scheme, someone files a bogus deed making it look like they are the owner. Then they can use the deed to obtain a mortgage and skip town with a large amount of money.
The Clerk of the Courts office has a Property Fraud Alert program that you can sign up for. It is free and quite simple. My wife and I were able to sign up in about one minute.
It is important to know that this alert does not prevent the filing of fraud or false documents. It only provides you with a notification that something has been recorded regarding your property. If you think that you are a victim of fraud, contact local law enforcement or the regional FBI for assistance.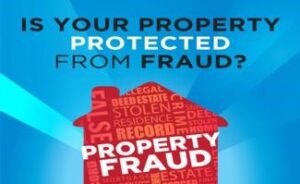 To sign up for this fraud alert service go to the Sumter County Clerk of the Courts Office web site www.sumterclerk.com  and click on the Property Fraud Alert button. Or you can call the Property Fraud Hotline at 1-800-728-3858.
It does not appear that this service is available in Marion County or Lake County. However, that may change, and it is best to contact the Clerk of Courts in the county where you own property to verify their participation in this program.
However, you may want to check this web site www.propertyfraudalert.com to see if this service is available in other parts of the country where you may have property.
Also, look for the Seniors vs. Crime articles in The Voice to keep yourself informed about other schemes relating to fraud targeting seniors.
Stay safe and healthy,
John Dean, Vice President
vhajohndean@gmail.com
207-557-0371