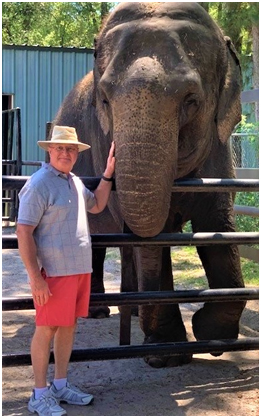 Greetings,
Neighbors and VHA members often ask me about things to do and places to see when they have family and friends visiting.  Everyone knows about the big attractions, but they often ask about other things that are close-by that are interesting and at a reasonable cost. I have mentioned a couple in the past, but this month I offer a new one that is educational and fun.
On Mother's Day I took my wife, Carol, and some neighbors to the Two Tails Farm in Williston.  This is primarily an elephant educational facility, but they also have a camel, a zebra, lemurs, ostrich, and tortoise.
This is not a fancy place but the educational component and the up-close encounter with these animals is something that people of all ages would enjoy.  The family who owns this facility have been animal handlers for nine generations and it is obvious that they provide exceptionally good care for their animals.  Some of their elephants have lived into their 80's or 90's.  One of them even paints.  And this is not something he was trained to do.  He learned it by playing with the owner's children when they were all young.
The admission is $20 and there are extra fees for pictures, feeding, and riding.  Everyone in my group did the ride (very safe for all ages) and I was the designated photographer.  This is a guided tour of 1.5 to 2 hours and it includes a lecture about the facility and the animals as well as a great opportunity to ask any questions. Their web site is www.allaboutelephants.com and their phone number is 352-528-6585.
Everyone in our group enjoyed this experience.  So, here is another idea of what you can do with visitors.  I am finding that there is a whole lot to see and do in Florida.  Get out and enjoy. 
Stay safe and healthy!
John Dean