Bike Friendly Community Corner
Tandem Riders Are Closer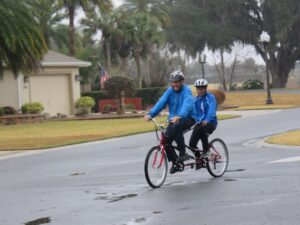 Over our thirty-eight years of happy marriage, we have each bicycled an average of 7,500 miles per year.  For the algebraically minded, Total Miles Ridden = Average (7,500) X Number (38), which is 285,000 miles.  About 150,000 of those miles have been aboard our tandem bicycle, while the other 135,000 miles have been on our singles, aka "half-bikes" in tandem speak.  Today, as full-time retired residents of The Villages, most of our miles are on the tandem.  We've averaged over 8,500 miles per year since our arrival eleven years ago.  One might ask why we would choose to ride a tandem almost exclusively.  We have a few good reasons. 
First, we like each other, and do many activities together.  In fact, it is rare to see us separately.
Second, we like to exercise.  It builds strong bodies and healthy minds.  Exercise is habitual for us because physical fitness was a condition of employment in our careers.
Third, riding tandem builds our relationship.  King Solomon wrote that: "Two are better than one, because they have a good return for their labor.  For if one falls down, his companion can lift him up; but pity the one who falls without another to help him up! Again, if two lie down together, they will keep warm; but how can one keep warm alone?"  So, you might agree that the family that rides together stays together.
Fourth, we think that the tandem is safer than half-bikes because it builds teamwork.  We have four watchful eyes scanning to maintain situational awareness.  There are lots of obstacles out there!
Fifth, one rider is usually stronger than the other, so staying together on a half-bike ride can be challenging, and frustrating.  A tandem keeps the team together. 
Sixth, Bob is the Captain – the front rider.  He controls steering and braking.  Rose is the Stoker – in back.  She provides the power.  Bob always crosses the finish line first.  He thinks he is self-actualizing, but he is really feeding his ego and sense of self-importance.
The number of tandem teams has increased in The Villages.  (The couple pictured is Bob and Lynn Englert, smiling on their first tandem ride).  We think that most of the tandem riders will agree with our reasons and add a few others.  Bob Thompson is the PANTHERS Tandem Club President (it's really his wife Jan).  The club has about 100 teams, thirty in The Villages.  Check out the rides at www.floridatandemclub.org.
by Bob & Rose Jordan