Community partners in promoting health and wellness in the villages!
We had a full house on April 18, 2023 for the excellent and informative presentation given by key members of the management team for The Villages Health.  TVH CEO Bob Trinh gave a throrough and concise overview of the patient care model that is used.  That model, which has earned TVH a superior rating by patients who choose to partner with this unique health provider, is patient-focused and designed to prevent hospitalizations while meeting the highest standards of quality care.  Each TVH team member was given an opportunity to showcase their particular area of oversight and expertise for a well-rounded look at every aspect of this vital resource for Villages residents.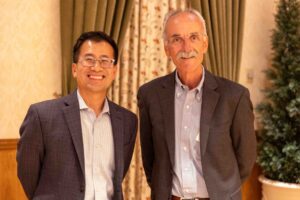 Bob Trinh, CEO of The Villages Health, left, was welcomed and introduced by The VHA President, Peter Russell.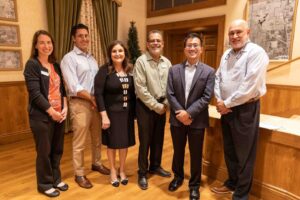 Members of The Villages Health management team who participated in the evening's presentation included:  Amy Wixted, Population Health Manager; Rob Reilly, Medical Director for Risk-Based Care;  Sophie Ferenz, Director of Sales & Marketing; Emilio Noble, Vice President of Sales & Marketing; Bob Trinh, CEO; Braulio Vicente, Chief Operating Officer. 
IF YOU WERE UNABLE TO ATTEND THIS PRESENTATION, MUCH OF THE INFORMATION PROVIDED IS AVAILABLE AT:  thevillageshealth.com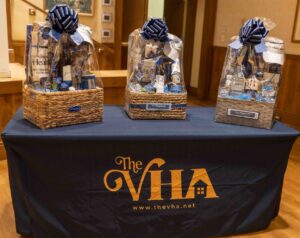 TVH provided three beautiful gift baskets for door prizes that all attendees were eligible to win and three winners (two pictured, one was camera shy) were happy to take home.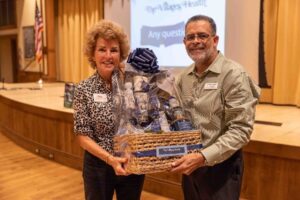 Q & A: There was a formal Q&A time taking questions from the audience, followed by time for attendees to ask further questions and chat with TVH team members. 
The questions that arose were focused on the need for another hospital in the south area, which is in the works but with no current updates on when construction will begin.  It was noted that the two hospitals association with TVH, UFHealth The Villages Regional Hospital, and UFHealth Leesburg Regional Hospital, are both able to accommodate the current population here with beds readily available. 
The other theme that was on people's minds was the fact that many state employees of several states will see their insurance options change to Aetna-only as of January 1, 2024.  TVH only works with three Medicare Advantage insurance providers, United Healthcare, Humana, and Florida Blue, due to their willingness to support the patient model without compromise, and to streamline and keep the claims process as efficient and uncomplicated as possible.