Town Hall
Town Hall Summary – October 19, 2021
October '21 Town Hall Q & A Summary
November 1, 2021
The VHA wants to thank the following people for providing answers to questions from VHA members and The Villages residents for The VHA Town Hall meeting on October 19, 2021:  Dr. Gary Lester – Vice President Community Relations; Carrie Duckett – Assistant District Manager; Lt. Robert Siemer – District Lieutenant from the Sumter County Sheriff's Department; and Bradley Arnold – Sumter County Administrator.
Note:  Some questions sent for this Town Hall meeting were recently asked and answered.  The complete Q & A of previous Town Hall Meetings are posted here on The VHA website.
(Questions related to The Villages landscaping, multi-modal paths, etc. can be submitted at any time to the appropriate department via the District website. Go to www.districtgov.org and on the Home page lower left click on "Submit Feedback, Inquiry, or Concern.")
---
1. When will work begin on the site of the former Hacienda Hills Country Club?
Dr. Lester:  We are still awaiting final plans with the City of Lady Lake, which might impact the development of Hacienda Hills.
---
2. Questions related to town squares movie theaters include:
2a. Could movies be added to Barnstorm Theater in Brownwood as they are at Old Mill Playhouse in Sumter Landing?
2b. Are there plans to open the Rialto and Barnstorm theaters in ways similar to the Old Mill Playhouse?
Dr. Lester:  As more movies become available post-COVID, we will certainly have more options to consider.  For now, we are still monitoring the fast-changing landscape in the movie business.
---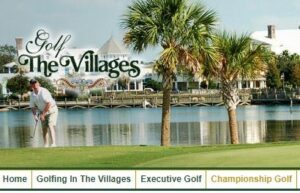 3. Would you please explain why championship golf fees are so high compared to surrounding courses?
Dr. Lester: Thanks for the opportunity to correct the misinformation in this question.  In fact, golf fees at our Championship courses are not "so high."  A quick survey shows that we are quite comparable, and, in most cases, less than neighboring courses.  For example, while our championship courses range from $36 to $45, Mission Inn is $50 – $70, Harbor Hills is $37, Country Club of Mt Dora is $50, Arlington Ridge is $34 and Deer Island is $40 to $50.  And don't forget, you cannot reach any of those courses in your golf cart.
---
4. When will The Villages Public Safety Department begin emergency ambulance service?
Carrie Duckett:  Sumter County has an existing contract with American Medical Response (AMR) which is the current ambulance transport provider in Sumter County. The contract with AMR is not due to expire until September 30, 2022. During this period, The Villages Public Safety Department (VPSD) is developing a plan of action to provide ambulance transport within the VPSD service area inclusive of personnel, apparatus and equipment.
Concurrent to this, the District is pursuing the establishment of an Independent Special Fire Control District that will provide the self-governance and autonomy which supports the growth and financial sustainability of the services to The Villages and surrounding areas.
The District will be hosting a series of public workshops to ensure public input as the District service levels and parameters are established.
Q. How much will it cost to have an independent fire department?
A. It is too early to tell.
Note:  When The Villages independent fire department is formed, fees for fire service will be provided to the Independent Fire Control District rather than to the county.
Q. Will an ambulance come from Lake or Marion for those sections of the Villages?
A. There will be an inter-local agreement to provide services to all areas of The Villages, similar to what is currently in place.
---
5. What are the leash laws for Silver Lake? Dogs are often seen running loose.
Lt. Siemer:  The leash laws are the same in Lake County as in Sumter County.  Call the sheriff's office if this is a one-time occurrence.  If this occurs often, Animal Control steps in to observe and may issue citations.
---
6. Will the District consider the possibility of putting our Villages ID card on our cell phones?
Dr. Lester:  Yes, we are actually working on that.
---
7. Questions related to scanning guest cards include:
7a. Would you please respond to the rumor that guest passes can be purchased for $80?
Carrie Duckett: Guest IDs are only issued to those guests who reside outside of Lake, Sumter and Marion Counties.  They must be requested by a resident, and there is no charge for a Guest ID.  The District does due diligence in issuance of Guest ID cards to ensure only those eligible have use of the amenity facilities by verifying addresses on state issued ID cards, among other things.
An In-Area guest pass can be issued to children and grandchildren of a Villages resident living in Sumter, Marion, or Lake County outside The Villages.  However, the homeowner must be with the In-Area guest when using The Villages amenities.
7b. Are there plans to increase staff schedules for checking guest passes and resident IDs due to the increased building of apartments adjacent to The Villages?
Carrie Duckett:  Not at this time as we currently are checking on a regular basis, nor have we experienced any significant increase in non-residents using facilities.  We will certainly evaluate as we do with all programs and services under our purview
---
8. When will the installation of Handicap Door Openers be completed at the entrance to recreation centers, (e.g., Fenney Recreation Center)?
Dr. Lester:  All recreation centers are scheduled for this installation by the end of November.
Q. What about placing a handicap opener at the entrance to the bowling alleys?
A. Those are private businesses, which we do not own.
---
9. When will construction be completed on the First Responders Recreation Center in order for work to begin on Paradise Recreation Center?
Carrie Duckett:  Construction of the First Responders Recreation Center is well underway.  The project is scheduled to be completed by June 2022 with a Grand Opening in July 2022.  The project is on schedule and on budget.  You can track the progress by navigating to the www.districtgov.org  and then click on the First Responders Recreation Center link on the left-hand side of the page. This page is updated bi-weekly with the latest construction status, drone overflight videos and construction photographs of the recreation center and the many recreation amenities, including the 18-hold putt n' play.
---
10. Can all tree lightings occur on the same night to help reduce crowding at each Town Square?
Dr. Lester: No.  The Entertainment Department does not have the resources to make this happen.  Also, having tree lightings on different nights gives residents more options.
---
11. Please give an update on the Lake Miona walking trail.
Carrie Duckett:  The Project Wide Advisory Committee approved the construction of the Lake Miona Walking Trail.  The project has been designed and submitted for permit approval, which is the final step before it is put out for construction bid.  We anticipate that it will be ready for bids in late October or early November.  The Lake Miona Walking Trail will be a ~3500' Length X 6' Width Premier Recreation Amenity featuring a trail that may be used for hiking, walking, nature trips and birding through the wetland environment surrounding Black Lake Preserve & Lake Miona, which will highlight wildlife viewing opportunities.  The trail surface will be Flexi-Pave with concrete ribbon curbing.  Flexi-Pave is the premier surface type for lower impact walking trails, ideal for wet environments.  It is slip resistant, ADA Compliant, resistant to freeze and thaw and resistant to chemicals.
---
12. For safety reasons, can signage at the entrance to walking trails include guidelines for pedestrian traffic?
Carrie Duckett:  The Engineer of record examined the Florida standard for all such trails during the development phase.  There are no plans to alter the design and due to liability, we will not be advising persons on the use of walking trails.
---
13. What are the results from the weeklong "crackdown on speeding?" Will this be repeated since speeding is a recurring issue?
Lt. Siemer:  This initiative called "Operation Southern Shield" included Alabama, Florida, Georgia, South Carolina and Tennessee joining forces for a weeklong high visibility enforcement and awareness campaign to reduce fatalities and get motorists to obey speed limits.  In The Villages we had: 29 speeding citations; 3 aggressive driving related citations; 6 safety belt citations; 3 DUI arrests; 9 other traffic related arrests.
---
14. What are plans to increase sheriff officers as the population increases?
Lt. Siemer:  We watch all year to evaluate the need to increase officers while also watching for ways to save money.  Our response time in The Villages averages six (6) minutes to answer a call and under four (4) minutes when a serious incident is reported.
---
15. Traffic has become heavy at the Morse Blvd and SR 44 intersection and more vehicles are waiting for the light to change. Would it be possible to install a southbound right turn lane on Morse Blvd?
Bradley Arnold:  At this time, there is no indication of a need based on our current traffic information.  We perform annual traffic counts and this location will be reviewed.  We will monitor if the data shows a need in the future and address it at that time.
---
16. At the intersections of Morse and Buena Vista Blvd with CR 466, CR 466A and SR 44 a consistent pile of debris forms. What is the sweeping schedule at these intersections? Can maintenance be improved?
Bradley Arnold: Sumter Country contracts annually with a firm to provide street sweeping and the firm does so on a schedule.  Staff will monitor the demand for the frequency at these intersections and adjust the contract as required.
---
17. Meggison Road seems narrower and will be carrying a lot of traffic in the future. Was the road purposely designed narrower to slow traffic speed?
Bradley Arnold: The design of new roads uses 11-foot lanes rather than 12-foot lanes as it reduces the costs for construction and long-term maintenance as well as a smaller environmental impact for storm water management.  For the speeds posted, this design also promotes lower speeds as not all drivers adhere to the posted speed limits.
---