District News
Villages Public Safety/Community Watch Working to Keep The Villages Safe
August 2, 2021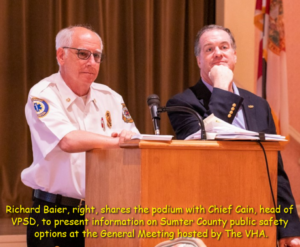 Two of the most easily recognized departments within The Villages are Community Watch and The Villages Fire Department.  Both of these departments work hand in hand to make sure our community is safe at all times.
Both departments provide 24-hour coverage, 365 days a year.  The Community Watch Department and your Villages Public Safety Department work in unison during instances such as structure fires, traffic accidents, severe weather, and special events. An example of this would be the last Presidential visit where not only crowd control was needed but also Fire Rescue to deal with any potential emergencies.  These agencies also coordinate with County, State, and Federal agencies on a multitude of incidents.
Community Watch patrols all thirteen Districts at least twice per day.  Also, they serve as our security service for 2 billion dollars of infrastructure as they patrol all recreation centers, swimming pools, utilities, and District-owned buildings daily. Community Watch utilizes two-way communication to remain in constant contact with their Dispatch Center in the event of an emergency which requires medical or law enforcement coordination.  On June 23, 2021, Community Watch became the first (non-PSAP) Public Safety Answering Point, to receive accreditation through the Florida Telecommunications Accreditation Committee (FLATAC).
On the other hand, the Villages Fire Department has nine strategically located Fire Stations throughout The Villages and daily staffing of fifty personnel responding with an apparatus of aerial trucks, engine companies, and rescue/non-transport quick response vehicles as well as a total of fifteen units staffed with paramedics to respond to all types of emergencies.  Augmenting this fleet, Community Watch has seventeen patrol vehicles equipped with an Automated External Defibrillator (AEDs) to assist in cardiac emergencies and routinely patrols thirteen Districts and three Town Squares.  The Community Watch drivers also patrol the town squares at night with the AED units to provide immediate assistance if needed.
The Villages Fire Department provides a Smoke Detector program. This program alone assists over 6,000 residents a year.  Residents may call the Fire Department to have their smoke detector batteries changed or defective units changed out when they purchase the replacement units and or batteries.  Also, the Fire Department provides CPR/AED classes to both residents and employees of the District.  The Neighbors Helping Neighbors AED program has a task force of 5,000 trained individuals in the use of AEDs in sudden cardiac arrest situations.  This contributes to the cardiac arrest survival rate of 15% which is well above the national average.
Together these departments are focused on providing a safe neighborhood and reassuring presence to those who come into contact with them.  The numerous services they provide in addition to the emergency services make The Villages a most desirable place to live, work, and recreate.