UF Health
UF Health – Vision for the Future of The Villages Hospitals
January 5, 2022
UF Health/The Villages Chief Operating Officer, Heather Long,
Presents Her Vision for the Future of our Hospitals
As Heather Long, UF Health Central Florida Sr. Vice President and Chief Operating Officer over The Villages® and Leesburg Hospitals and Brownwood Freestanding ER, along with a few key members of the leadership teams, began her presentation at The VHA General Membership meeting on December 8th, it was clear she was going to do her best to present not only her vision and goals, but also her grasp of the issues that needed to be addressed.   Speaking off the cuff, and obviously with clear knowledge of her topic, and a candor that was refreshing, she tackled topics ranging from staff retention and competitive salaries, to wait times for ER patients to transition to a hospital bed or home, with ease.
In addition to sharing a brief summary of her professional and personal background, she segued into what she sees, and is committed to, for the future of the hospital and quality healthcare going forward.  Although residents of The Villages and surrounding communities who utilize both hospitals have not been happy with wait times in the Emergency Departments, she pointed to improvements that have already been made with more to come, and, with the addition of another hospital in the future, assured the crowd that progress is being made and will continue to be a key goal.
Simply put her focus is on two major "buckets".  First is having the right leadership in place and focusing on the employees, staff and physicians.  Second, is quality of care from the time a patient enters through the front door until they "transition" back home.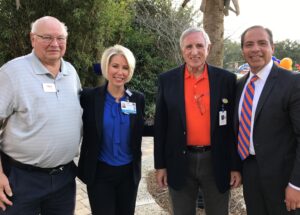 One of the most exciting announcements of the evening was that there will now be a permanent medical helicopter available for transporting critical care patients, whose needs cannot be addressed locally, to UF Health Shands Hospital in Gainesville.  The ribbon cutting for that welcomed addition to trauma care was announced, and took place on December 17th.  Pictured above at that event:  Phil Walker, VHA President, joins Heather Long, Chief Operating Officer at UF Health Central Florida, Russ D'Emidio, VHA and UF Health Central Florida Board member and Ed Jimenez, CEO UF Health Shands, to celebrate the new base for the ShandsCair helicopter.
While patients who visit the Emergency Department at our local hospital have had to experience long wait times, which can be frustrating, Ms. Long was able to enlighten our members as to the reasons behind some of those long wait times and the systems that are in place to determine the order in which patients are seen.  Like all ED's, one of the key components the staff is trained to assess for is mortality.  Those with life-threatening emergencies are ranked as needing and receiving immediate care, while other factors are involved in determining priorities for further treatment after an initial assessment.
NOTE:  There are now a variety of options for emergency treatment in The Villages area, including other freestanding facilities connected to their own hospitals.  Be sure to know which hospital they are connected to, since that is the one you will be transported to if admission is required.  If possible, make use of one of the many urgent care facilities peppered throughout the area.  They are able to evaluate and recommend further treatment at an Emergency facility if that higher level of care is actually needed.
Staffing concerns were discussed as she explained what has been required to meet that need, and what is being done to address the many components involved.  Many nurses are leaving the profession, especially after the challenges of the pandemic the past two years.  In addition, there is a lot of competition for healthcare workers, including other hospitals in the area.  Multiple behind-the-scenes factors, including affordable housing, community dynamics, and salaries and benefits also come into play.  All of these have been evaluated, with salaries being adjusted recently to be competitive.  It is hoped that the hospital's necessary reliance on traveling nurses to fill in where needed will be phased out as the community becomes more attractive to permanent, local nursing staff.
During the Q and A portion of the evening, it became clear that many of the attendees had questions regarding their insurance coverage and whether or not the hospitals took their specific plan.  Ms. Long admitted she was not up to date on the latest details and did not want to misspeak.  Although Ms. Long was unable to answer those questions, other members of the audience offered their help, and resources, such as SHINE, which is regularly featured in The Daily Sun and The Voice, were recommended.  Ms. Long did state that any patient that arrives, by ambulance, to the ED at both hospitals, would be seen and that visit covered by most, if not all, insurances.
The VHA has held an annual general membership meeting with a top Executive over our community hospital system, now part of UF Health including The Villages® Hospital, for many years.  We do so because it is important for us to partner with this vital aspect of our community.  As the number of residents here has increased dramatically, at times it has been hard to keep pace with the growing needs for expanding healthcare availability and quality care.  One of the key words for the evening was "transitioning".  That is, indeed, what is happening with our hospitals, and we look forward to seeing the great vision Ms. Long presented, and the practical solutions she proposed, being implemented under her leadership.
by Jan Palmer, Editor