But, like many things right now, we have to take the current situation with COVID-19 into consideration on a month-to-month basis when making plans, and while we had hoped to resume our New Resident Night program in February, it has been postponed again.  If you are a new resident to The Villages, we welcome you, and once we can hold this popular program safely, we will let you know.  What does The VHA put together for you?
Presentations by:
• Honorable Paul Militello, Sumter County Judge
• Sumter County Sheriff's Office & other local law enforcement
• Sumter County Property Appraiser
• Sumter County Tax Collector
• Sumter County Clerk
• District Government
• Serving Health Ins. Needs of Elders (SHINE)
• Veteran Services
• Community Improvement Council
• Florida Sheriffs Youth Ranches
• The Villages Regional Hospital Auxiliary
• Seniors vs. Crime
• SECO
• Sumter Landing Bicycle Club
• Community Emergency Response Team (CERT)
• Sumter County Master Gardeners
• Friends of the Library
• The Enrichment Academy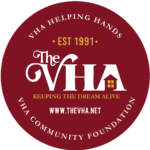 We usually have some pretty impressive goodies from our presenters, a 50/50 raffle, and cookies.  Plus, you will receive one of our snazzy new decals: 
We hope once we are back up and running, we will see you there for an evening dedicated to YOU.