LIGHTNING DESTROYS A HOME IN THE VILLAGE OF AMELIA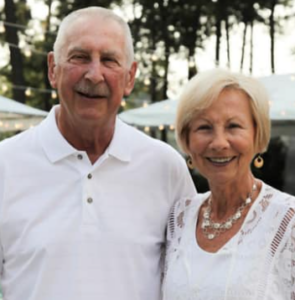 When lightning struck and destroyed her home in the Village of Amelia on June 8th, Joan Gissinger was puttering around in her slippers in the kitchen after baking a birthday cake for her husband, Andy, and finishing up the dishes from dinner.  Even though she knew the lightning and ensuing thunder had been extremely loud and had struck close by, it wasn't until they went to the garage after losing power that they discovered smoke. 
She ran back into the house to dial 911 when a group of golfers from The Villages Realtors, who had been on the course behind her home, came knocking on their door to tell them their house was on fire and they had to "Get out, NOW!"  Only then did they realize the seriousness of the situation.  Wearing just those comfy slippers, shorts, a t-shirt, and a sweatshirt that she thought to grab on her way out, they waited helplessly for The Villages Public Safety Department to arrive. 
From the front, the sturdy and beautiful stucco home the couple had lived in for fifteen years doesn't look as if the damage was too severe.  But from the sides and back, the roof caved in with just charred remains, it is clear the home they loved is a complete loss.  While they were able to get their car and two golf carts out of the garage, along with a couple bins of photos that may or may not be salvageable, everything else was destroyed; if not by the fire, then by smoke and water damage. 
According to Joan, they "were living the life, loving The Villages" when, in a flash, everything changed. 
What did not change was their resolve to rebuild, and the kindness of others.  They had no idea who to turn to; it's not a weather event that one can plan ahead for to be prepared. But there were "helpers." She could not say enough about the wonderful firemen and their genuine condolences and caring attitude.  Neighbors also stepped up to provide shelter for the first couple of nights.  And then Cynthia, a wonderful woman whom they did not even know, offered them her empty house, at no charge, for a month.  
Joan, who considers herself a "designer type of woman" had a closet full of clothes and purses, including the one she was currently using with her credit cards and driver's license in it.  She asked one of the firemen if he could get it for her, and he initially said it would be impossible.  But, after the fire was out, he approached her and asked where exactly it was in the house and he retrieved it for her.  The purse was destroyed, but her cards and license were safe.  It wasn't much, but it was something to be grateful.  She is also grateful to The Villages Fire Department, The Villages Realtors golfers, and her daughter Amy and granddaughter Adriana who flew out from Texas to lend a hand.
They have a long road ahead of them before they can return to a newly constructed home to take the place of the one they loved.  And it's all new territory to navigate.  They will be dealing with their insurance company, restoration services, demolishing what is left of their home, finding a general contractor for construction services, and the chore of replacing every big and small item they need to reestablish their lifestyle and a sense of "home."  It may take as long as a year to get back into their own home again, and they are feeling the stress. 
So, what advice does Joan have for her fellow Villagers?  Of course, first of all, it could happen to you.  Despite knowing the dangers of lightning strikes here, she never imagined they would be the victim of one.  She also wishes she had taken more photos of her home as an inventory for insurance purposes.  
We hope you will take the time to read Len Hathaway's article on Lightning Safety and heed his advice as well.  Nature is beautiful and we love watching her in all her glory, even during thunderstorms, but she can also be dangerous and destructive.  Stay safe!
by Jan Palmer