The Tuesday Lady Lake Farmers Market held in front of the Log Cabin on US Hwy 441/27 will be closing August 16th with a scheduled reopening in Feb.  
The Lady Lake Library located at 225W. Guava St. is accepting donated books, magazines and DVD's.  No textbooks or encyclopedias.  Items can be dropped off at the library on Mondays from 9:00 a.m. to 7:00 p.m. and Tuesdays through Fridays from 9:00 a.m. to 6:00 p.m.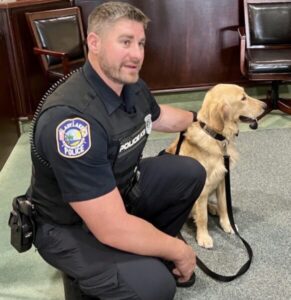 The Lady Lake Police Department recently introduced its newest K-9 member. "Fast" is a 16- month-old Golden Retriever (pictures with Officer Ryan O'Neal).  He will help track missing persons as well as detecting drugs.  He is joining the other K-9 member named "Lux".
The qualifying dates for the Office of Lady Lake Town Commissioner, for Ward 2 and Ward 4, will begin on August 15th at noon and end on August 19th at noon. Residency Requirement: A candidate shall be a qualified elector of the Town for a minimum of twelve (12) months prior to the date of qualification as a candidate. For more information go to:  https://www.ladylake.org/news/2022-elections/ and/or contact Nancy Wilson, Lady Lake Town Clerk at 352-751-1502.
SAFETY FIRST:  Be very alert traveling through the construction zone on US Hwy 27/441.  Be aware of hurricane season.  To prepare ahead of time, know where to go, what to do, and stay current on weather conditions.  Have all your emergency supplies ready.
Lynn Davis, Lady Lake
Lynna527@aol.com
352-250-7782