CONTINUING THE DREAM BY KEEPING THE DREAM ALIVE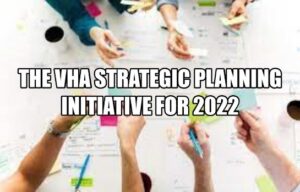 The leadership teams of THE VHA met recently for brainstorming and strategic planning as it looks to the future in terms of its vision and mission to advocate for The Villages residents.  Discussions focused on several fronts and how best to accomplish key goals.  After the uncertainty of the past two years, it was time to take this vital step.
Since its inception in 1991, The VHA has had a history of being an organization that proactively works with community leaders by partnering with them to ensure that the quality lifestyle we enjoy and expect here is maintained and protected for current and future residents.  That, in a nutshell, continues to be our overarching goal and modus operandi.  With the rapid expansion and need for new paradigms, we hope to maintain our function and usefulness as we move forward.
The VHA is an open organization that relies on a host of volunteers and believes in working with partners, such as the District government and the Developer, to promote cooperation and problem solving at the direction of our members and residents.  Rather than take an adversarial stance, The VHA has worked to identify needs and concerns and address them with the appropriate authority to find solutions.
Over the years we have championed philanthropic, informational, safety, and health causes that have benefitted the community at large.  However, people who are new to The Villages may not be aware of our efforts, so we want to refresh memories and introduce ourselves to our current population.
The "Dream" symbolism is seen throughout The Villages, and in the newest area south of CR 44, it is boldly a part of the new growth there as signs prominently declare that we are "Continuing the Dream".  The motto of The VHA is "Keeping the Dream Alive".  What exactly does that mean, and practically speaking, what can be done to accomplish that goal? 
Did you ever "dream" when you were younger, that you would ever be able to retire to a place like this?  A place where we are surrounded by beauty, and any and all services we could ever want in order to have a meaningful and active retirement is available to us?  Where we have recreational and volunteer activities to both enjoy and also give back meaningfully to our community?  Where health and safety are encouraged and supported, with the needs and wants of an aging population uppermost in every detail of planning and development?  And where quality and excellence are expected and respected?  These reasons and more are why The VHA exists; to make sure that what drew us here continues to be the standard for what is the number one master-planned community in America. 
We realize, as an organization, that we have work to do to reestablish the reputation we had when this place was a lot smaller and membership was more personally impacted and involved.  We can't rest on our laurels; we want to move ahead and beyond to build upon the successes we have had, and continue to have, to become an even more effective advocate for ensuring the future of The Villages.  We want to speak up for you on matters of importance, provide programs that are valuable and interesting, and strengthen our position of influence with the decision-making leadership by being a united front for the many voices of our membership.  There is, indeed, strength in numbers; and with over 16,000 members, our voice is an important one. 
The VHA was established to be a cordial and solution -oriented organization. This approach of working with key community leaders to come up with mutually beneficial ways to address problems, has worked well and been a proactive tool for success. 
Are we perfect?  Not by a long shot, but we are a valuable part of the community and welcome your involvement and input for ideas, comments, and general observations that will make our goal, to advocate for The Villages residents and "Keeping the Dream Alive", a reality. 
Let's look forward to 2022 as a time to reignite the enthusiasm and energy we lost over the past two years as we struggled to stay afloat during the pandemic.  Not only did we lose momentum, we lost some key leaders who we need to replace with equally strong and capable ones.   We hope you will consider stepping up to the plate to help lead us into the New Year.
by Jan Palmer, Editor