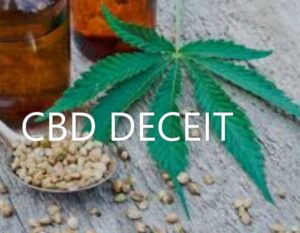 CBD, the non-psychoactive element of marijuana and legal extract of hemp is being hailed by many as the wonder drug of the 21st century. But there's either limited or no evidence of its effectiveness for a wide range of disorders including insomnia and pain relief. Some sellers also outrageously claim it can be used in the treatment of cancer, AIDS, and multiple sclerosis. There's not a shred of proof for this.
CBD, though legal in some forms throughout the US, is not approved for treatment by the US Food and Drug Administration (FDA), except for the seizure control drug Epidiolex. But that hasn't stopped scammers from making outrageous cure claims, which has led the agency to issue warnings to several product makers and sellers.
Furthermore, the spread of legalization of the psychoactive extract THC — the compound that makes users 'high' — is likely to lead to even more shocking claims about effectiveness.
The biggest worry about the CBD scam is that the claims usually have the greatest appeal to people with chronic medical issues; precisely those who can least afford to gamble with their health. Using CBD — full name cannabidiol — as an alternative remedy could mean that a patient is not taking the medication they should be or it could complicate or defeat the effectiveness of prescribed medication.
The drug is usually sold as either a CBD tincture or edible product. In other cases, it may be mixed with other chemicals or herbs. That may be legal, but it's the claims some sellers are making that put them on the wrong side of the law.  In one case, a seller allegedly made unsubstantiated claims that its product was "medically proven" and safe for all users and that it treated pain better than prescription products.
Now the US Federal Trade Commission (FTC) has stepped in with a crackdown in a campaign it has labeled "CBDeceit.
If you're considering taking CBD or a product containing it, use the following steps to avoid a scam:
Take any claims that a CBD-based product is scientifically proven to cure or treat your symptoms with a pinch of salt.

Always talk to your doctor or health specialist about any alternative remedies you are considering using.

Don't stop taking any existing meds without checking with your health professional.

Don't fall for ads that claim their product is "guaranteed" to treat your condition or illness.

Learn and understand more about the FDA's concerns and the current legal position on drug approval.
"Companies that represent expressly or by implication that what they sell can prevent, treat, or cure serious medical conditions will be held to the highest substantiation standards," FTC says, "and marketers can expect careful scrutiny of those promises."
Even so, the FDA acknowledges "the potential therapeutic opportunities that cannabis or cannabis-derived compounds could offer" and that there is "significant interest in these possibilities."
Investigations and research of CBD are ongoing, spearheaded in the US by the Center for Drug Evaluation and Research (CDER). CDER remains concerned that consumers may put off getting important medical care, such as proper diagnosis, treatment, and supportive care due to unsubstantiated claims associated with CBD products. For that reason, it's important that consumers talk to a health care professional about treatment options scientifically proven to be effective.
If you need assistance with understanding any aspects of CBD 'Cure' Claims, contact us via our website at:  http://www.svcinthevillages.org/