Big Bike Weekend Challenge
A bicycle ride around The Villages begins with a single pedal stroke.
"Nothing compares to the simple pleasure of a bike ride," said former US President John F. Kennedy, and you now have the opportunity right here in The Villages to participate in the 6th Annual Big Bike Weekend Bicycle Challenge on Friday and Saturday, November 12—November 13, 2021 hosted by UF The Villages Hospital Auxiliary Foundation in partnership with the Lake Sumter Landing Bicycle Club.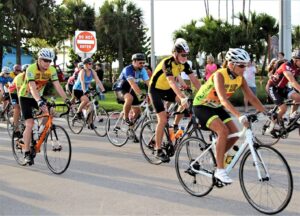 The weekend kicks off with a Cycling Expo & Health Fair on Friday, November 12 from 10:00 a.m. to 2:00 p.m. at La Hacienda Regional Recreation Center, where all levels of cyclists can enjoy the most up-to-date information on the sport along with free health-related screenings.  The next day, Saturday, November 13 features the ride-of-your-life with five different route options [100, 64, 32, 20 and 10 miles] taking you throughout Lake, Sumter and Marion Counties.  You will be able to ride singly or get a team together from your neighbors, clubs or groups, or even challenge your co-workers to ride.
Proceeds from this year's activities will be used to support enhancement of the cardiac services program at UF The Villages Hospital with construction of a new Heart Institute facility which will provide a full-service cardiac center in one convenient location.
As everyone is eager to resume outdoor activities, this bicycle challenge gives you the opportunity to participate in one of the top 15 sports in the world and enjoy "the simple pleasure of a bike ride".
For more information, or to register for the ride, please view our website at www.h4hbikeweekend.com